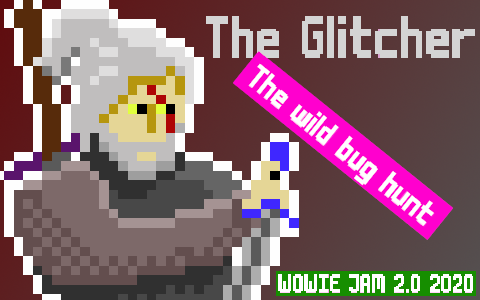 The Glitcher - the wild bug hunt
Fight your way through buggy levels and destroy the source of the glitches. Use the bugs to your advantage.
Controls:
ASDW + Mouse + Space (Controls)
ESC for Pause Game Menu
If you get stuck, you can get help from the walkthrough video (SPOILER ALERT):
We, Saturn91 and EinsteinsErbe, had great fun desinging this one! We hope you enjoy the game as well as we did while programming it.
Thanks for playing, please check out:
Comments
Log in with itch.io to leave a comment.
dang that was a lotta fun!!
Very good game! I like how each level have new stuff! Some levels were kinda hard tho.
very entertaining!
although I find it difficult to understand what to do in some places haha.
I love!
Thats really fun, really well done level design :D congrats!
It's really fun! Congratulations! The music make it very funny haha. Nice mechanics!
Really fun game. The best one I found on this Jam yet. Well done! Good luck to your future projects!
I love the mainmenu and the theme is so so nice! The puzzles are fun too! Well done!!
Hahaha +1 for the pun alone :D Good job, guys!
Fits the theme, nice character, whole game is full of unexpected bugs some of them even made me laugh. I ABSOLUTELY LOVE THE MAIN MENU. Great job!!!
This is really good! Also fits the theme very well!